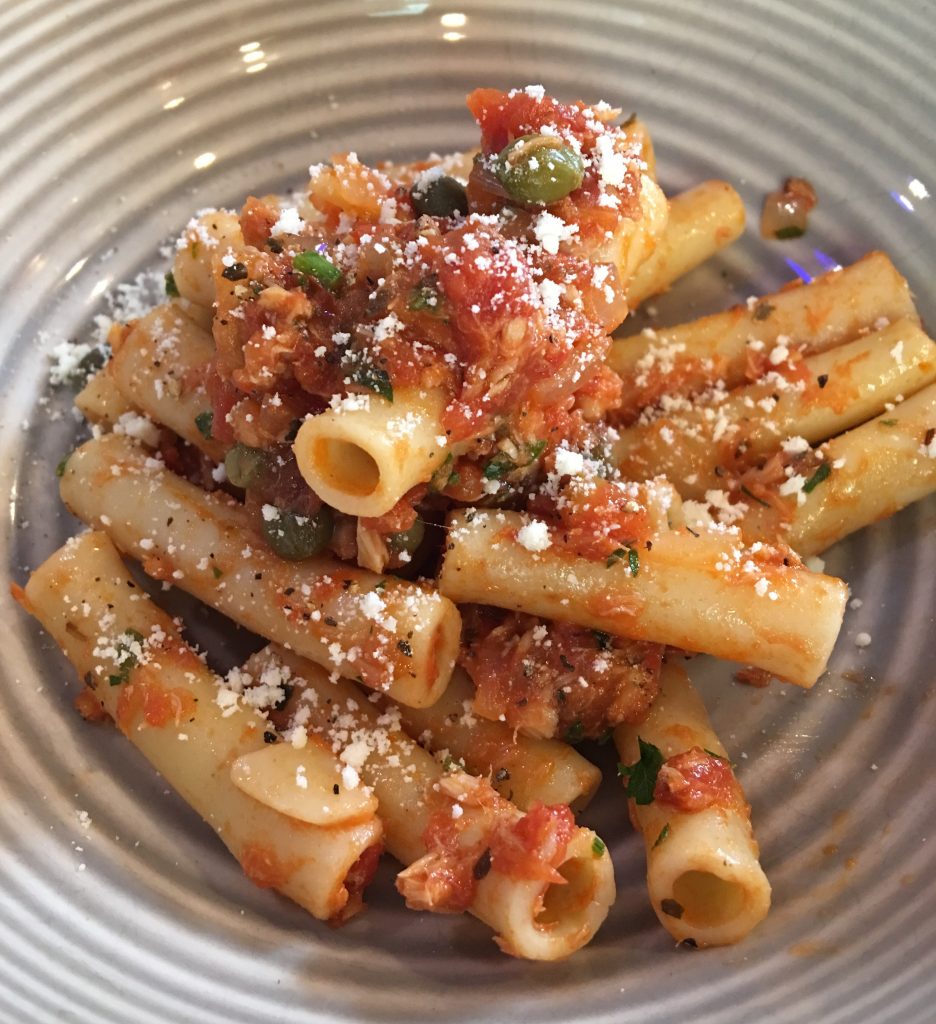 I had an unexpected day off from cooking yesterday, so I immediately filled it with that most cathartic and perversely enjoyable of tasks: cleaning out piles of unnecessary crap from my house.  The guest room piles up with so much *stuff* this time of year – mostly gifts to be wrapped or returned; gifts received that have yet to be homed in their proper location; the outgrown or no-longer played-with items removed from other rooms in the house to make room for the new stuff.  Oy, with the stuff already.
Anyway, before I knew it was time to meet the bus, and had I made a plan for dinner? No I had not. Mondays we have an after school activity and don't usually get home til 5:30 or so, so it's the one day I do need to plan in advance (or at least fall back on eggs, soup or find something in the freezer, fingers crossed).  I did make split pea soup with the last of the Christmas ham – that bone simmered for hours, and it smelled gooooood – but no one but me will eat it.  So to the pantry I went, and with a few minor adjustments – I had a bit of red wine but no white; no fresh basil but some parsley – this was dinner last night.  Keep your pantry well stocked so you can whip up easy and tasty dishes like this too!  Pasta, beans, tuna, tomatoes, olives, rice, broth or stock – you can get so many meals out of those pantry staples.  This one is a favorite:
Pasta with Tuna and Capers

Chunky pasta tossed with olive oil, Italian tuna, capers, chopped tomatoes and red pepperflakes. Both the capers and pepper flakes are optional, if you have eaters who object to them – but they are sooo good and really make the dish pop.
Serves: 4
Ingredients
2 tbs oil
1/2 onion – chopped
1 can diced tomatoes – 28oz — not drained
8 ounces pasta (half the box)
1/4 c white wine
1 can tuna in oil – 6 ounce
2 tbs capers
1/2 tsp red pepper flakes
black pepper
1/2 c basil – chopped (or use a teaspoon of dried, or you can skip it entirely)
Directions
Cook onion in oil until soft, 3-5 min. Add tomatoes, cook over medium-low heat – they should be just barely simmering – until thick and saucy, 10-15 minutes.
Meanwhile, cook pasta, reserving some cooking liquid. (I do this by sticking a Pyrex measuring cup or a coffee cup in the sink next to the strainer.  Splash a little cooking water in to the cup before pouring the pasta into the strainer.)
Turn sauce to medium high heat. Add pasta, wine, tuna with oil, capers and red pepper flakes and cook, stirring, another minute. Add some black pepper and the basil, toss well; add a little cooking water if it seems too thick. Adjust seasoning (this means: taste it and add what you think it needs – salt, pepper, herbs, a splash more wine, more capers or their lovely sharp briny liquid).
When it's right, toss the pasta and sauce together and serve.   We like to add grated Parmesan as well.  Enjoy!
A quick dinner from the pantry: Pasta with Tuna and Capers