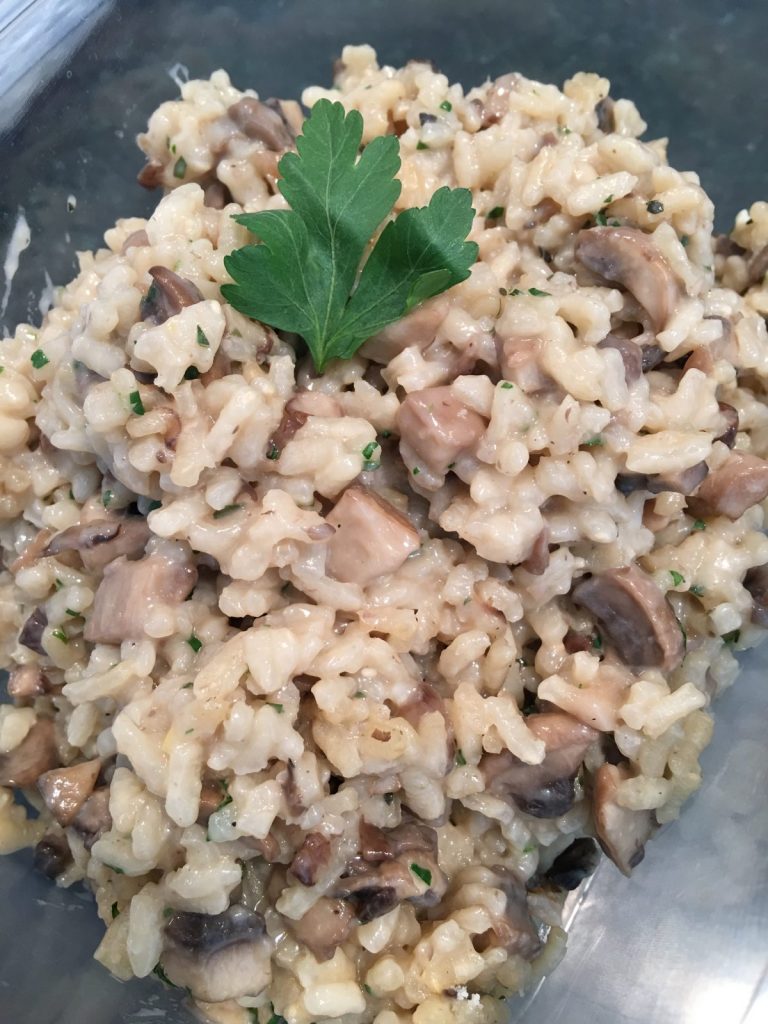 Are you afraid of risotto? Perhaps you've heard that you MUST stand next to the stove for ages, stirring constantly, ladling in precise half cups of simmering stock…and if you don't it will just be a total disaster.  Jeez, who has that kind of time??   Years ago I feared it as well, but it really is a very simple dish to make.  In addition to stovetop methods, there are baked and even microwave versions that are delicious.  And for the stovetop method, you can stir occasionally while you're doing other tasks – setting the table, making a salad, feeding the dog, corralling the kids to do their homework etc. It takes maybe 20-30 minutes total.
This mushroom risotto is simple and lovely and delicious.  The method is Martha Stewart's, and you know Martha does NOT mess around.  You can use this method to make any kind of risotto – shrimp, scallops, asparagus, sausage, peas and ham, etc.  I like to cook those items first with the shallots and remove them to the side while I get the rice nice and creamy, and then add them back in.
Now: go forth and make risotto!!
Recipe: Mushroom Risotto
6 cups low sodium chicken broth
1/4 cups unsalted butter
1 shallots (large – diced small)
1/2 pound mushrooms (cremini, baby bella, button – any type, pre-sliced is easiest!)
coarse salt
ground pepper
1 cup arborio rice
1/2 cups dry white wine (such as Pinot Grigio)
2 tablespoons grated parmesan cheese (1/4 ounce)
3 tablespoons fresh herbs (chopped mixed – such as parsley, marjoram, and chives)
In a medium saucepan, bring broth to a simmer; reduce heat and keep warm. (You can also pour it into a large Pyrex measuring cup and heat it in the microwave – mine is a 4-cup, so I start with the 4 cups and add the other two and heat it later). In a 10-inch heavy- bottomed skillet or pot, heat 2 tablespoons butter over medium-high. Add shallot and mushrooms, season with salt and pepper, and cook until beginning to soften, about 4 minutes. Add rice and cook, stirring, until rice is translucent at edges, 1 minute.

Add wine and stir until evaporated, about 2 minutes. (If you drink, now is a good time to pour yourself a glass, too!). With a ladle, add about 1 cup broth to skillet. Cook, stirring constantly, until broth is absorbed, 4 minutes. (Ok Martha, YOU DO NOT HAVE TO STIR CONSTANTLY.  I'm sure this is the best/most traditional way, but it really is not required.  Add broth, stir, go about your business, come back every so often to stir and check the level of liquid. When it's almost all absorbed…) Repeat, gradually adding broth by the cupful and stirring constantly, until rice is tender but still al dente and sauce is creamy (you may not need all of broth), 20 to 25 minutes.

Remove skillet from heat and stir in 2 tablespoons butter and Parmesan, along with herbs. Season to taste with salt and pepper and serve immediately.
Don't Be Afraid of Risotto!