No, I'm not short on dishes, I just loooove the convenience of cooking a well-balanced meal in a single pot or pan.  Not so very long ago, my favorite type of meal to prepare at home was a simple pan saute – maybe pork, or chicken, or shrimp quickly seared in a hot pan, with a delicate little pan sauce finished with fresh herbs.  With a grain side and a veggie side, this was my favorite type of dinner.  I still love this kind of plate, but with a little ChefBaby circling my legs most nights while I try to make dinner, the fewer pans, courses and steps, the better.  I came across this version of Paella in a Cooking Light  from a few months ago that was kicking around; another great way to use up some veggies on hand. I used my CSA scallions and peas, as well as cilantro from last week in place of the called-for parsley.  Instead of chorizo, I used a link of the awesome pork sausage we got last month in our Chestnut Farms meat CSA.  As I've said before, I love me some substituting!  Recipes become jumping off points on top of which you can layer whatever ingredients are in your fridge.  Pretty much any green veggie can substitute for another. Don't be afraid to give it a whirl!
In this week's bag: radishes, scallions, basil, chard, lettuces, beets, u-pick peas and strawberries. It's gettin' good!
Paella with Soy (or not) Chorizo and Edamame
From Cooking Light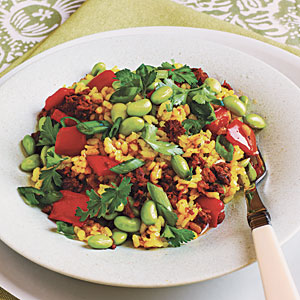 6 ounces meatless soy chorizo (or regular chorizo, or any sausage  – I used a fresh pork & fennel sausage)
2 tablespoons extra-virgin olive oil
2 1/4 cups chopped yellow onion (about 1 large)
1/4 teaspoon saffron threads, crushed
4 garlic cloves, minced
1 cup Valencia or other medium-grain rice (I used Arborio)
1 cup (1/2-inch) pieces red bell pepper
1/2 cup dry white wine
2 cups organic vegetable broth (or any stock or broth you have on hand)
1/4 teaspoon salt
1 1/2 cups frozen shelled edamame, thawed (I used fresh English peas)
1/4 cup coarsely chopped fresh flat-leaf parsley (I used fresh cilantro)
1/4 cup chopped green onions
1. Heat a large nonstick skillet over medium heat. Add soy chorizo to pan, and cook for 12 minutes or until browned, crumbling and stirring occasionally. Place in a small bowl, and set aside.
2. Return pan to medium heat. Add olive oil, swirling to coat. Add yellow onion; cover and cook for 10 minutes or until tender, stirring occasionally. Add saffron and garlic; cook for 1 minute, stirring constantly. Add 1 cup rice and bell pepper; cook for 2 minutes, stirring frequently. Stir in white wine, and cook for 2 minutes or until liquid is nearly absorbed, stirring frequently. Add vegetable broth and salt; bring to a simmer. Cover, reduce heat, and simmer for 20 minutes or until rice is tender and liquid is absorbed.
3. Return soy chorizo to pan, and stir in edamame. Cook for 5 minutes or until edamame is thoroughly heated, stirring occasionally. Sprinkle with chopped parsley and 1/4 cup green onions.
CSA Week 3, and another easy one-dish-meal – am I short on dishes or something?