This week's bounty includes cilantro, scallions, radishes, parsley, strawberries and u-pick English peas.  I've never picked a pea; ChefBaby and I are positively pickled with excitement.
If you need an easy recipe to use some lovely cilantro and scallions – and heck, throw a few radishes in, why not; and the peas would also be a great addition – try this Chicken Biriyani we made last night.  In place of the called-for onions, I used my lovely bunch of scallions, finely chopped.  Substituting one (or 2, or 6) item for another in recipes is my favorite way to cook – nothing gives me greater pleasure than using up every last little morsel of tucked-away leftover what-have-you.  A handful of chopped almonds gets tossed in the freezer, and used when I make a dish that would benefit from their crunch but I'm too lazy to chop.  Half an onion, 6 grapes, a quarter cup of chicken stock  – everything usually ends up as part of dinner, or the basis for  a ChefBaby snack.  The way I see it, it's not just the food you're saving, it's the effort – you washed, peeled, chopped, ground, grated, boned or julienned that smidgen of goodness, why let it go to waste??  Then the terrorists win.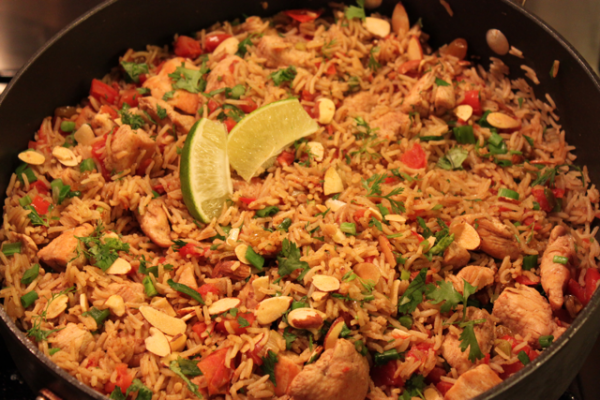 Btw, don't be afraid of any maybe-not-everyday ingredients – garam masala is a lovely, aromatic Indian spice blend; it isn't curry-ish or spicy; and you can find it at most local markets (or here.)
Chicken Biriyani
2 teaspoons olive, canola or other mild oil
1 pound skinless – boneless chicken breast, cut into 1-inch pieces (I used a whole breast from our Chestnut Farms meat CSA, and just took it off the bone)
1 cup chopped onion (or a bunch of CSA scallions)
1 jalapeño pepper – seeded and minced (optional)
1 teaspoon minced fresh ginger (I keep a jar of grated  garlic on hand; it lasts forever, and it's pleasant tasting and bright, unlike very gross jarred minced garlic)
1 1/2 teaspoons garam masala
3/4 teaspoon ground cumin
3/4 teaspoon salt
2 garlic cloves – minced
2 cups chopped plum tomato (about 2 tomatoes, or you can use a 15 oz can of diced & drained)
1 cup uncooked basmati rice
1/3 cup golden raisins
1 can (14-ounce) less-sodium chicken broth
1/4 cup chopped fresh cilantro
1/4 cup sliced almonds
4 lime wedges
Heat oil in a large nonstick skillet over medium-high heat. Add chicken to pan; sauté 3 minutes. Add onion and jalapeño; sauté 3 minutes. Add ginger, garam masala, cumin, salt, and garlic; sauté 30 seconds. Add tomato, rice, raisins, and broth; bring to a boil. Cover, reduce heat, and simmer 15 minutes or until rice is tender. Stir in cilantro. Sprinkle with almonds; serve with lime wedges.
CSA Week 2, and a super-easy one-dish recipe