So, my CSA (Community Supported Agriculture, or "pay the farmer in the winter, get veggies all summer" program) started this week, and I am psyched. It's our first year with Hanson's Farm, and based on a few email and phone conversations and yesterday's in-person orientation at the farm, the Hansons are lovely people, great farmers, and thoughtful stewards of the land. We've had a distinct lack of sunlight lately so the crops are a bit late coming out, compared to last year – but that's farming, isn't it?
Week 1 Share: cilantro, dill, spinach, French Breakfast radishes (yum!), scallions, a quart of u-pick strawberries (that ChefBaby and I will pick later this week), and 2 recipes that celebrate this early-season splendor…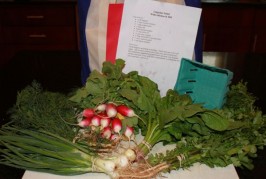 Hanson's Farm Strawberry-Spinach Salad
Salad:
1 bunch spinach – well washed and towel-dried
1 quart fresh strawberries
1/2 cup mushrooms, optional
1 cup sliced red onion, optional
3/4 cup pecans or walnuts, optional
3/4 cup gorgonzola/blue cheese crumbles, optional
Toss ingredients together in a large bowl; drizzle with dressing and serve.
Dressing:
1 tsp olive oil
1 tbsp strawberry or raspberry jam
1 tbsp white wine vinegar
1 tbsp honey
Whisk together the above ingredients (can be made a day ahead).
Hanson's Farm Linguine Salad with Chicken & Dill
Ingredients:
1/2 lb linguine
2 cups cooked chicken
1 cup cooked peas
1 tbs salt
fresh ground pepper
1/3 cup olive oil
1/4 c wine vinegar
2 tbs fresh dill
1 clove minced garlic
1 tsp Dijon mustard
Preparation:
Cook linguine according to package directions. Drain and rinse with cold water. Add cooked chicken and peas. Mix remaining ingredients in small bowl and pour over linguine mixture. Toss well.  Serve immediately or refrigerate and serve cold later. (Serves 4).
Enjoy!