I put this on my Facebook page, but it is so popular I'm posting it here too…these really are delicious!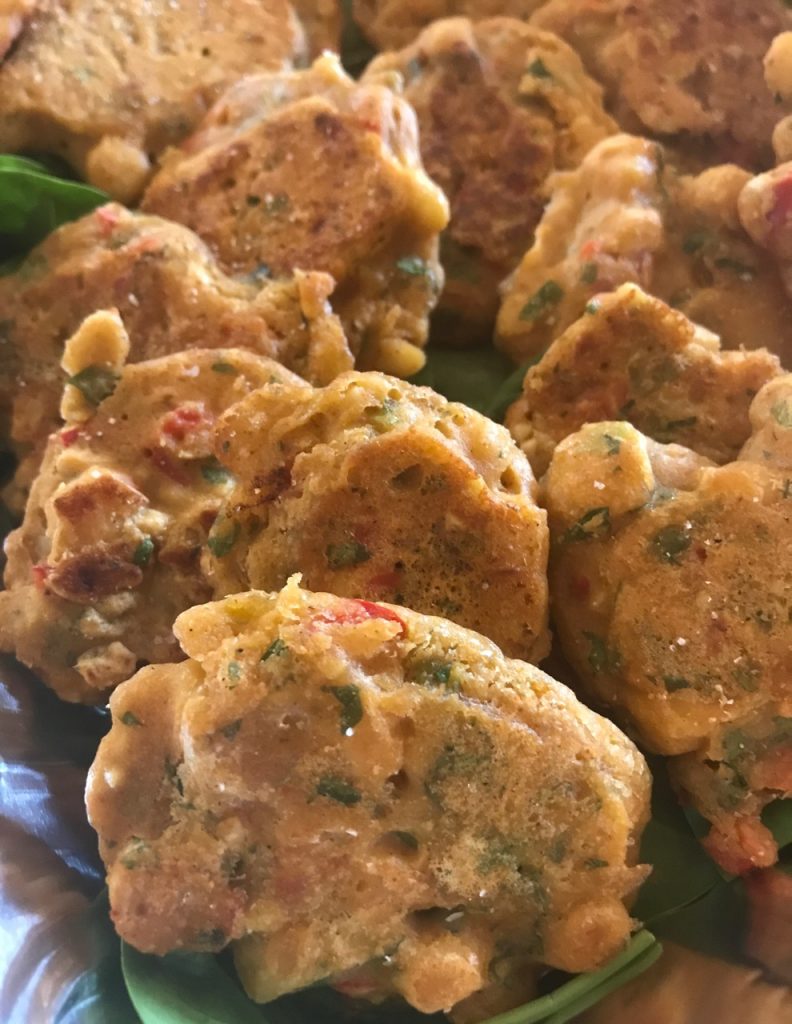 Chickpeas, cumin and fresh herbs patted into tasty little cakes, sautéed and served with a cucumber, tomato and feta topping. The original recipe appeared in Vegetarian Times in 2009…shows you how long I've been making (and eating!) them
.
Sometimes I skip the Greek salad topping and go with sriracha + mayo, my favorite all-purpose sauce, but I do love the briny feta, cold crunchy cucumbers and tomatoes, and the acidity of the lemon juice…mmmm, I want some more right now!
Chickpea Croquettes with Greek Salad Topping
Serves: 4
Ingredients
1 cucumber quartered and sliced (1 cup)
1 cup cherry tomatoes – quartered
2 green onions – chopped
2 Tbs. lemon juice
1 Tbs. olive oil
1/2 cup crumbled feta cheese – optional (Omit for vegan)
Croquettes
1 cup chickpea flour
2 tsp. ground cumin
1 tsp. chili powder
1/2 tsp. salt
1 15-oz. can chickpeas – rinsed and drained
4 green onions – chopped (1/2 cup)
1/2 cup diced red bell pepper
1/4 cup chopped fresh parsley
2 Tbs. lemon juice
1 Tbs. olive oil
2 cloves garlic – minced (2 tsp.)
Directions
To make Topping:
Toss together cucumber, tomatoes, green onions, lemon juice, and oil in bowl. Gently stir in feta crumbles. Season with salt and pepper, if desired, and set aside.
To make Croquettes:
1. Whisk together chickpea flour, cumin, chili powder, and salt in bowl. Whisk in 1/3 to 1/2 cup hot water. Stir in remaining ingredients, and season with salt and pepper, if desired.
2. Coat nonstick skillet with cooking spray; heat over medium heat. Scoop 4 ı/4-cup dollops of chickpea mixture into skillet, and reduce heat to medium-low. Cook 3 to 4 minutes, or until golden.
3. Flip with spatula, and cook 3 to 4 minutes more. Repeat with remaining chickpea mixture. Serve each Croquette topped with 1/4 cup Topping.
SaveSave
Recipe: Chickpea Fritters