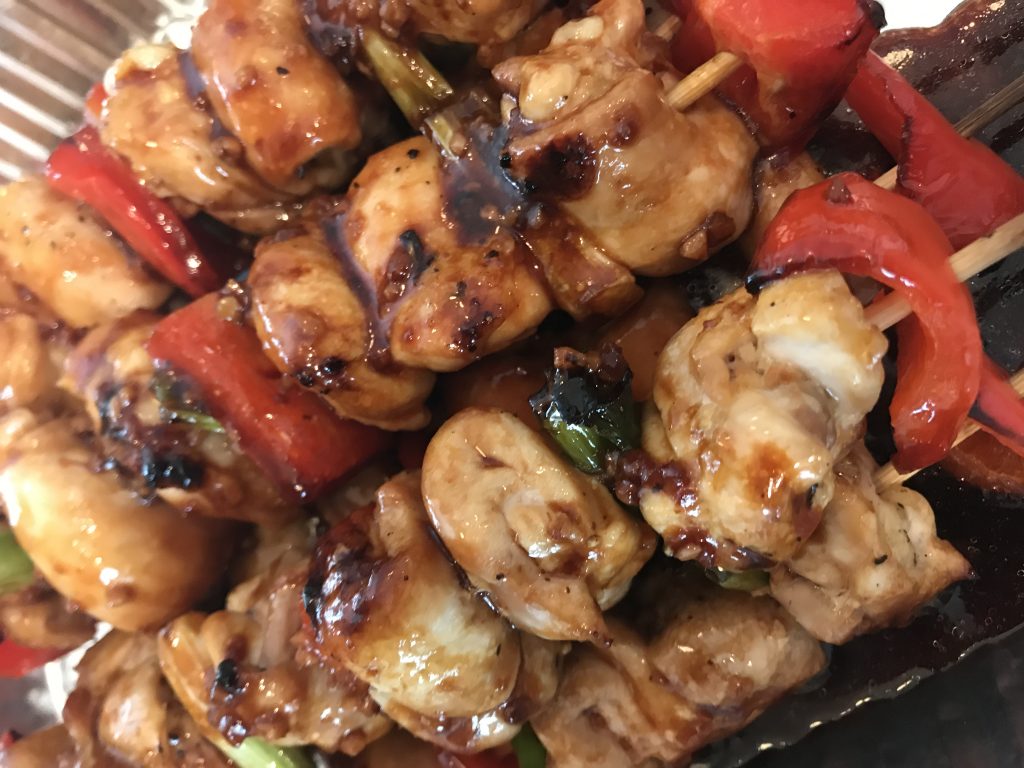 Chicken Yakitori – boneless chicken marinated with a blend of (mostly) soy sauce, sugar, ginger and garlic – is one of my favorite things to eat on a stick. I use chicken thighs, which have more flavor and fat than breasts, and therefore superior taste and tenderness.
A quick soak in the marinade and then threaded on skewers with bell pepper and scallions = yum. Nice with Jasmine rice and a green veggie on the side.
(I'm pretty sure the original recipe came from Food & Wine: http://www.foodandwine.com/recipes/chicken-yakitori.)
Chicken Yakitori
Description
Skewered boneless chicken, red bell peppers and scallions, brushed with a lightly sweet soy glaze and broiled.
Serves: 4
Ingredients
1/4 cup tamari (gluten-free soy sauce – or use regular if that is not a concern)
2 tbsp mirin (Or rice- or white wine- vinegar)
2 tbsp sugar
1 tsp minced ginger
1 clove garlic
1 1/2 lbs skinless, boneless chicken thighs, Cut into 2″ pieces
1 bell pepper, cut into chunks
8 scallions – cut into 2-in pieces
Wooden or metal skewers
Directions
1. To make the sauce, bring the soy sauce, mirin, sugar, ginger and garlic to a boil in a small saucepan. Cook over medium-high heat until the sauce thickens and nicely coats the back of a wooden spoon, about 5 minutes. Remove from the heat; set aside.
2. Spray the grill or broiler pan with nonstick spray; prepare the grill or preheat the broiler.
3. Thread the chicken, bell peppers and scallions onto each of 8, 10-inch metal skewers (or wooden skewers soaked in water for 1 hr). alternating the ingredients. Grill or broil the kebabs 5 inches from the heat, frequently brushing with the sauce, until the vegetables are tender and the chicken is cooked through, about 10 minutes. Serve with rice.