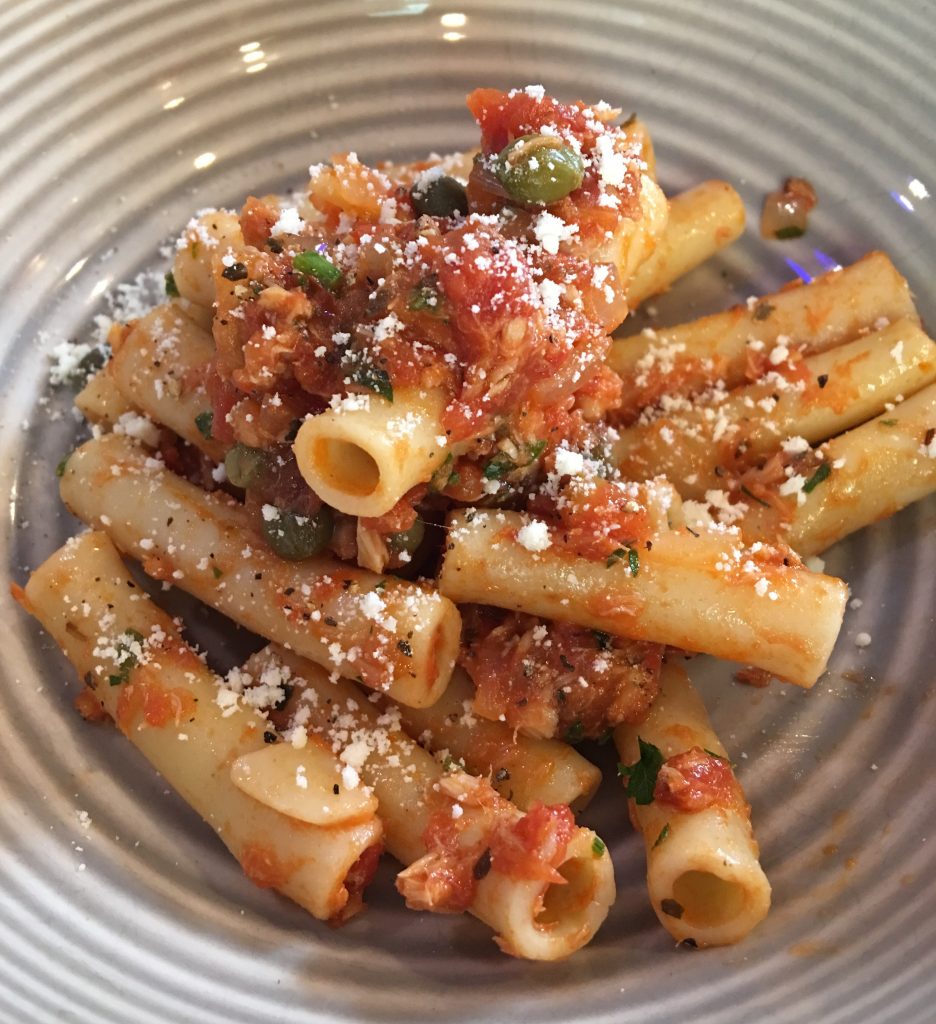 Happy new year everyone! Here in the Northeast US (and in less northeast-y parts of the US too), we've been experiencing frigid temps and way too much snow the past few weeks. Add in a "brisk" wind to blow the snow straight at your face whenever you're outside, and it just plain makes sense to stay inside and wait til things improve. And in the meantime, you need to eat. Preferably things you already have on hand. Head on over to your pantry and take a gander; with any luck you'll have most of these ingredients on hand. Don't be afraid to substitute or omit as well; this recipe like most good ones is just a jumping off point. Stay warm!
Pasta with Tuna, Tomatoes and Capers
Chunky pasta tossed with olive oil, Italian tuna, capers, chopped tomatoes and red pepper flakes. Both the capers and pepper flakes are optional, if you have eaters who object to them – but they are sooo good and really make the dish pop.
Serves: 4
Ingredients
2 tbs oil
1/2 onion – chopped
1 can diced tomatoes – 28oz — not drained
8 ounces pasta (half the box)
1/4 c white wine
1 can tuna in oil – 6 ounce
2 tbs capers
1/2 tsp red pepper flakes
black pepper
1/2 c basil – chopped (or use a teaspoon of dried, or you can skip it entirely)
Directions
Cook onion in oil until soft, 3-5 min. Add tomatoes, cook over medium-low heat – they should be just barely simmering – until thick and saucy, 10-15 minutes.
Meanwhile, cook pasta, reserving some cooking liquid. (I do this by sticking a Pyrex measuring cup or a coffee cup in the sink next to the strainer. Splash a little cooking water in to the cup before pouring the pasta into the strainer.)
Turn sauce to medium high heat. Add pasta, wine, tuna with oil, capers and red pepper flakes and cook, stirring, another minute. Add some black pepper and the basil, toss well; add a little cooking water if it seems too thick. Adjust seasoning (this means: taste it and add what you think it needs – salt, pepper, herbs, a splash more wine, more capers or their lovely sharp briny liquid).
When it's right, toss the pasta and sauce together and serve. We like to add grated Parmesan as well. Enjoy!
Too cold to go out! Make dinner from the pantry