As part of my New Year's resolution to bake more frequently – which I'm happy to say I've been doing, with almost weekly baking sessions of bread, muffins, cookies etc – I also decided to try some baking with non-wheat flours.  Almond, coconut, chickpea and peanut flours have been fun to play with, and I've produced some tasty treats with the help of terrific blogs like Satisfying Eats and Elana's Pantry, as well as the Wheat Belly cookbook.  This one is my favorite, as it does triple duty as a dessert (try it warmed in the micro for 15-20 seconds, and topped with fresh whipped cream, berries, cocoa power etc), a breakfast (straight from the fridge they are a dense, cold, not-too-sweet portable breakfast that will keep you full for hours), or snack (yesterday I was craving something sweet, and one of these warmed and drizzled with a little maple syrup – regular or the sugar-free kind, depending on your diet – was just the thing!).  Enjoy: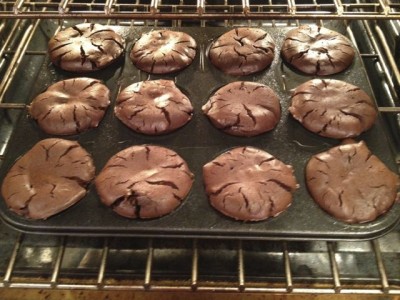 Wheat Belly Cookbook: Mini Mocha Cakes
Makes 12
8 ounces bittersweet chocolate (85% cacao), chopped
12 tbs butter (1 and 1/2 sticks)
1/2 cup xylitol (see note)
2 tsp instant espresso powder
5 eggs
2 tsp vanilla extract
1/2 cup heavy cream (whipping cream) – for serving
Unsweetened cocoa powder or dark chocolate – for garnish
Preheat oven to 350. Place paper liners in 12-cup muffin pan or grease the cups.
In a large glass bowl, microwave the chocolate and butter for 1 minute, stirring once. If not completely melted, microwave, stirring every 20 seconds, until melted.  Stir in the zylitol and espresso powder until completely melted.
Add the eggs, one at a time, blending well after each egg.  Stir in the vanilla.
Divide the batter among the muffin cups, filling each about 3/4 full.
Bake 20 minutes or until a wooden pick inserted into the center of a cake comes out with moist crumbs. Cool in the pan on a rack for 5 minutes.  Remove to rack to cool completely.
Wheat-Free, Gluten-Free Baking