I've posted simple baby food ideas & recipes on my Facebook page; this time I thought I'd add some wholesome store-bought foods you can feel good about giving your little one. I'll take it a store at a time, starting with that perennial fave Trader Joe's. I like TJs, though I don't go that often. It's just far enough off my beaten path – by about 2 minutes – that I don't get there much. Given that it's about 15 minutes away, I think that's testament to how lucky I am to be surrounded by a lot of really good grocery stores and markets.
What drove me to Trader Joe's this week? This:
Organic Strawberries: $2.99/quart
Not a sale price or special; this is their every day price for strawberries that haven't spent their childhood bathing in toxic chemicals. Given that the sale price for them at Sudbury Farms or Whole Foods is usually $5.99 or higher, this got my attention.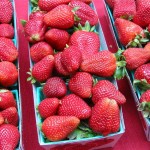 While I was there grabbing a few quarts – my little ChefBaby inhales berries – I also picked up:
Harvest Grains, 16 oz – $2.69. A blend of Israeli (pearl) couscous, orzo, baby chickpeas and red quinoa. Simmered in low-sodium chicken stock, it's a pleasant, mild mix that kids love. Add some diced carrots or peas when simmering, and a bit of chicken if you like, and you have an easy, one-dish baby meal (freezer-friendly too; make a big batch and thaw as needed.)
Multigrain O's, 12 oz – $2.99 – made from corn, barley, oats, rice and wheat; 14 grams of whole grains and a good source of fiber and vitamins. 6 grams of sugar though, as they are honey-sweetened, so I like these for a morning snack when they still have time to burn off the sugar rush.
Toss the Os with some Fresh Blueberries, 18 oz – $6.99 – I've been seeing them for $3.99 a half pint lately; this is a great deal if your kid is like mine, and doesn't care that it's not yet blueberry season here and just wants to inhale them daily.
Another good deal: Fage Greek yogurt, my favorite – $1.69 for the little cups, vs. $1.99 at Whole Foods. (Target now has them for the same low price).
Organic Romaine hearts, 3 hearts, $2.79 – often $3.99 or more at Sudbury Farms et al, when they have them, and Organic carrots, 1 lb, .89 cents are also a great deal.
Organic Chicken Legs, $1.99/lb – I like to roast a bunch of chicken legs with just a sprinkling of garlic powder, sea salt and pepper, and then freeze them.  Dark leg meat is more tender than leaner breast meat, and won't dry out in the freezer.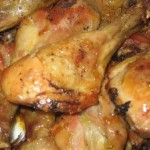 The legs are also super-convenient; they're like their own natural single-serving packages. (Sometimes two servings). Take a leg from the freezer, thaw it quickly on half-power in the microwave (or 20 minutes in a bowl of warm water), and pull pieces off and toss with any combination of rice, pasta, egg noodles, green beans, corn, tomatoes, broccoli, cauliflower, couscous, etc, and a splash of chicken broth.
You can also find good quality oils and vinegars much less expensively than other stores, plus all those funky only-at-Trader Joe's snacks, frozen things and jarred sauces and condiments. Worth the occasional stock-up trip even if it's a little out of your way.
Healthy food deals: Trader Joe's