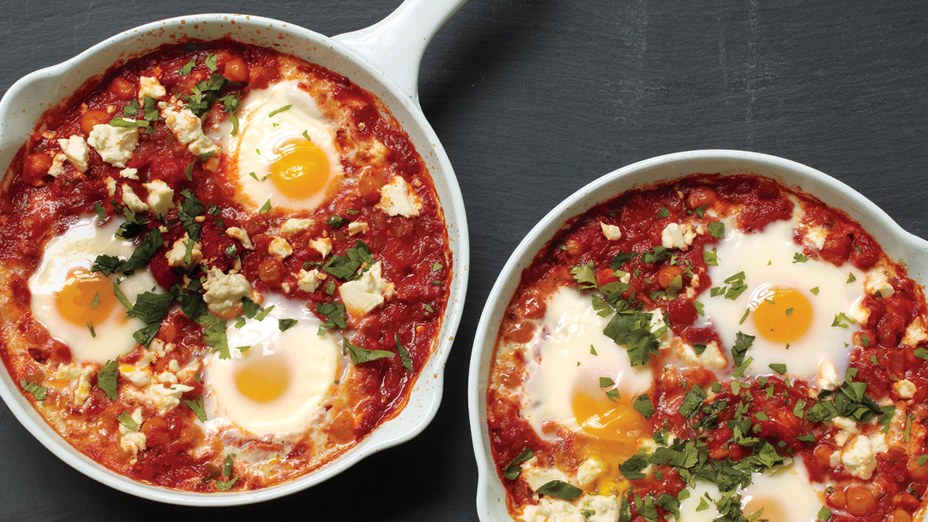 The humble chickpea – simmered in a savory tomato sauce, topped with briny, salty feta and luscious farm-fresh eggs – becomes positively swoon-worthy. There is something about both feta and chickpeas; something that happens to them when you cook them even for a few minutes…the texture becomes a little bit chewy, and a lot of delicious. I've been saving this dish to make a for a while, waiting for a night when no one else but me was eating dinner at home, so I could avoid the chickpea suspicion that sometimes emanates from the other people that live here… so I made this dish "for 1" tonight. I prepared the the whole tomato/chickpea mixture, but then just added about 1/4 of it to a small baking dish, added some feta and one egg, and baked it.   I'll have the rest of the tomato goodness for lunches etc for the rest of the week.  YUM!
My version (for one, so just one egg on top of 2 cups of the chickpea/tomato sauce):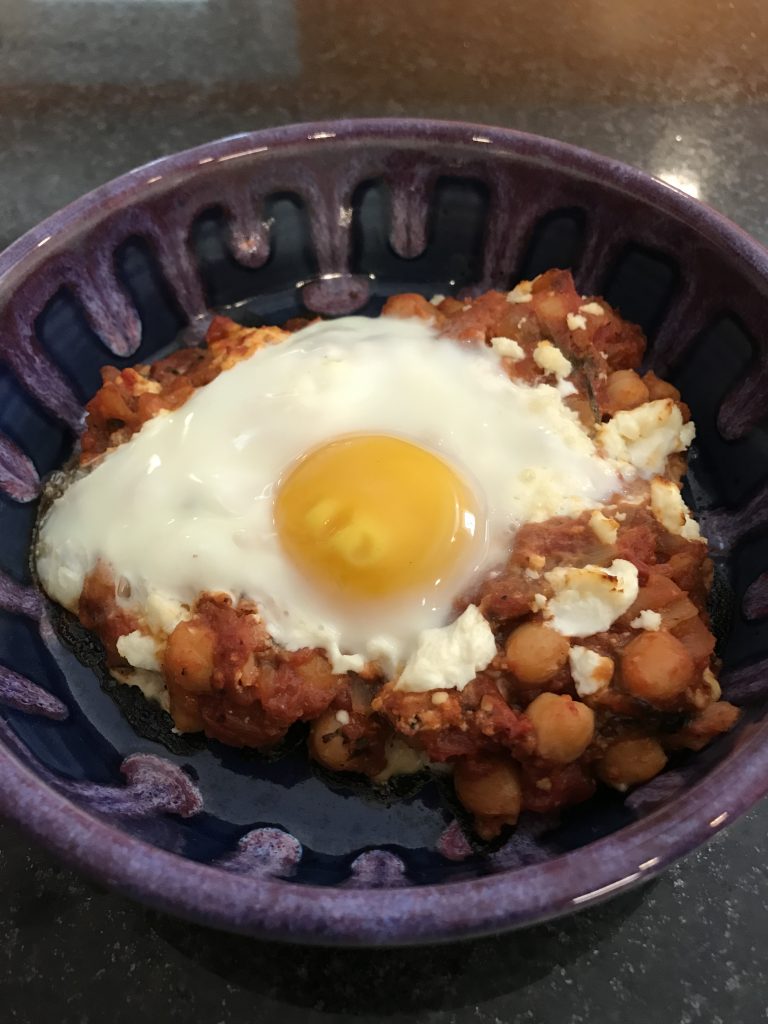 PS: as in all cooking that isn't baking – which is to say all FUN cooking, haha –  don't sweat the details.  I used frozen diced onions (LIFE CHANGING), smoked paprika, fresh oregano & basil because I had it, and a box of Pomi tomatoes. If you have jarred marinara, just use that! Easy and super fast. Oh, and please stop buying feta crumbles and reward yourself with a block of good feta.  The salty, briny, clean and sharp taste; the firm, almost meaty texture – sooo much better than the crumbles, and it lasts for weeks in the fridge (you can change the water every so often if you feel like it; I've never had one last long enough to spoil though.)
Here's what block feta looks like: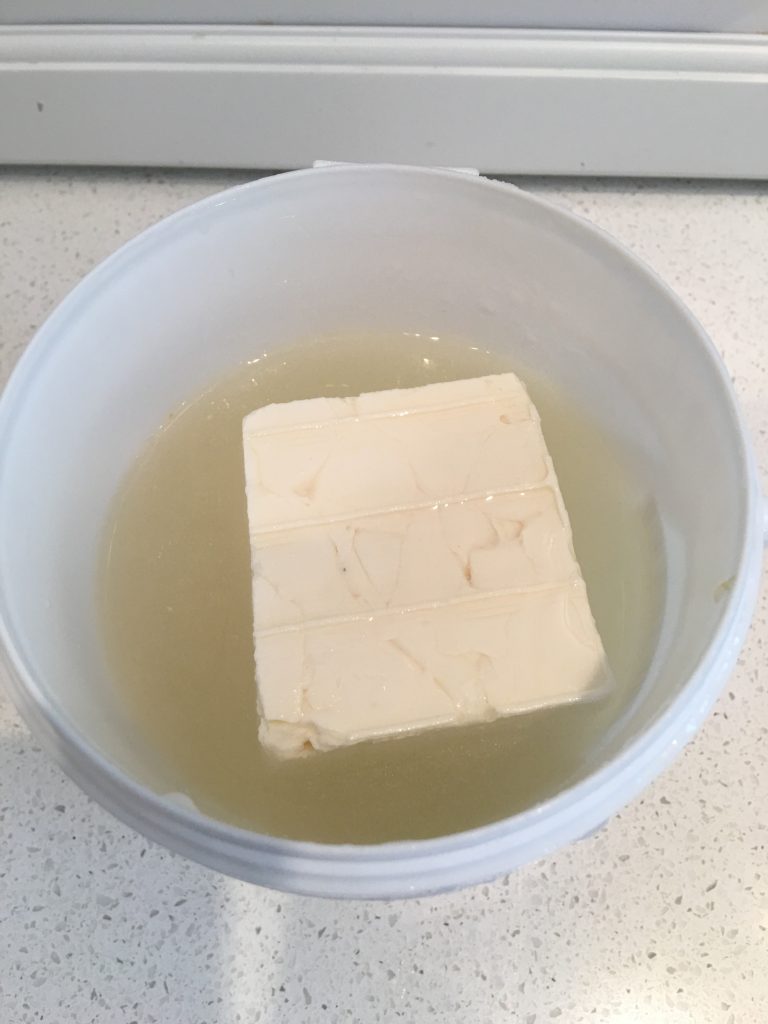 A brand I like, though there are others: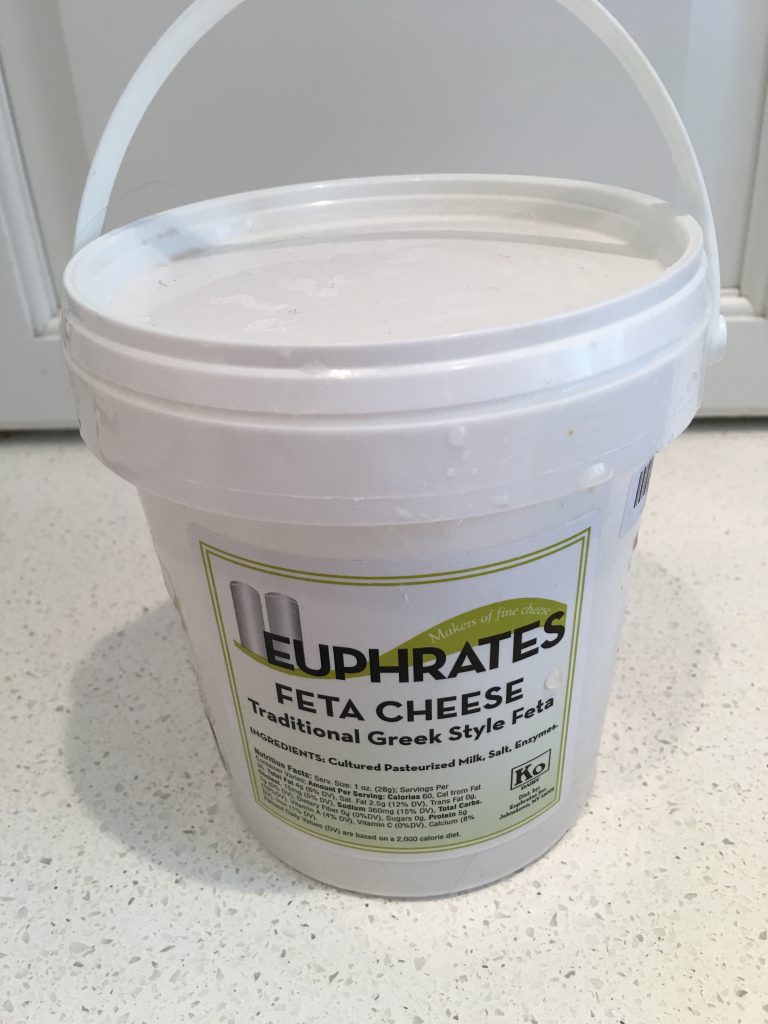 The flavor and texture are SO much better than the crumbles. It will cost you more than the crumbles, but you GET more, and it's better.  So, you win.
Oh, and here's the beautiful Bon Appetite photo from the original recipe: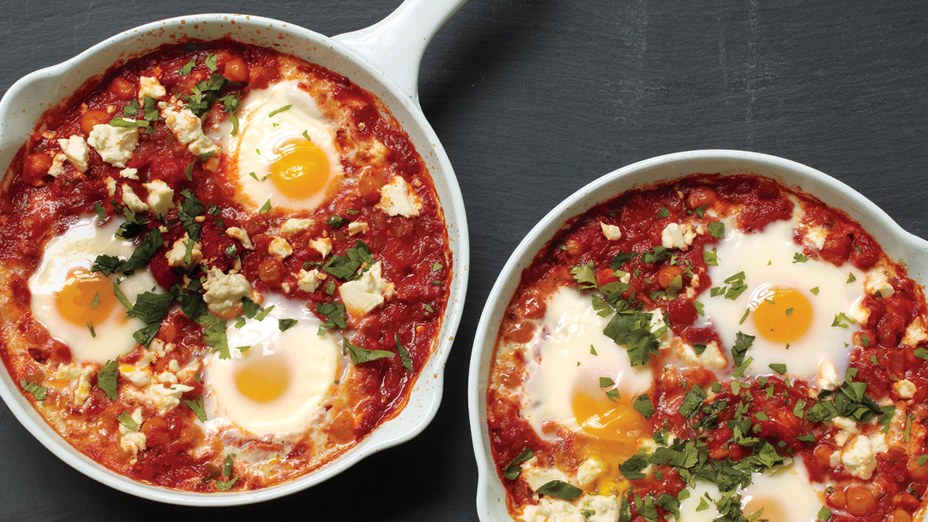 Poached Eggs in Tomato Sauce with Chickpeas
Serves: 4
Ingredients
1/4 cup olive oil
1 medium onion – finely chopped
4 garlic cloves – coarsely chopped
2 jalapeños seeded – finely chopped
1 15-ounce can chickpeas – drained
2 teaspoons Hungarian sweet paprika
1 teaspoon ground cumin
1 28-ounce can whole peeled tomatoes – crushed by hand, juices reserved
Kosher salt and freshly ground black pepper
1 cup coarsely crumbled feta
8 large eggs
1 tablespoon chopped flat-leaf parsley
1 tablespoon chopped fresh cilantro
Warm pita bread
Directions
Preheat oven to 425°. Heat oil in a large ovenproof skillet over medium-high heat. Add onion, garlic, and jalapeños; cook, stirring occasionally, until onion is soft, about 8 minutes. Add chickpeas, paprika, and cumin and cook for 2 minutes longer.
Add crushed tomatoes and their juices. Bring to a boil, reduce heat to medium-low, and simmer, stirring occasionally, until sauce thickens slightly, about 15 minutes. Season to taste with salt and pepper. Sprinkle feta evenly over sauce. Crack eggs one at a time and place over sauce, spacing evenly apart. Transfer skillet to oven and bake until whites are just set but yolks are still runny, 5–8 minutes. Garnish with parsley and cilantro. Serve with pita for dipping.
Original recipe here: http://www.bonappetit.com/recipe/poached-eggs-in-tomato-sauce-with-chickpeas-and-feta?mbid=nl_fig_06032015_Daily&CNDID=1409490
Recipe: Poached Eggs in Tomato Sauce with Chickpeas