How quickly time flies! Lots of new clients this summer season, which is a rarity, but a happy one. To catch up on the blossoming bounty from Hanson's Farm CSA:
CSA Week 6: Corn, summer squash, 8-Ball zucchini, pattypan squash, pickling cukes, regular cukes, radishes, green beans, carrots, swiss chard
CSA Week 7: Corn, carrots, cukes, basil, hot peppers, 8-Ball OR yellow zucchini, Kousa squash, summer squash, tomatoes
CSA Week 8: Corn, lots of various squashes, cukes (regular and pickling), peppers (sweet and hot), tomatoes, cabbage, kale, carrots and eggplant. (Also available at the farm stand: local peaches!)
Here's another recipe to take advantage of all this summery goodness. It's a very flexible one  I created based on what I had on hand, but you can substitute as you like, either using the suggestions I note in the recipe, or your own ideas. The awesome part of having fresh anything on hand is that it really is so interchangeable. Fresh flavors are fresh flavors, no matter the variety of squash or herb or tuber. Enjoy.
Roasted Pattypan Squash with Pancetta
Serves 2 (or more, if you use 6 or 8 smaller pattypan squash)
Ingredients
2 large pattypan squash (mine were about 4″ in diameter – or, use 6 or 8 of the little ones; whatever you have)
2 ounces pancetta – chopped (or 4 slices bacon. Or, omit entirely – still rocks w/out the pork)
1/2 cup cherry tomatoes – quartered (or use 1 small tomato, diced)
1 small onion – diced
2 cloves garlic – minced (or chop up a garlic scape or two if you still have some)
sprinkle of good Parmesan cheese
sprinkle of Panko or other breadcrumbs
olive oil
2 tbs fresh basil – sliced or torn
Directions
Preheat oven to 375.
Slice tops off of widest part of squash (on mine this took about 1/4 of the squash off). Chop the squash tops. With a spoon, scoop out and discard the seedy flesh from the center of the squash bottoms. (With tiny pattypans, there sometimes aren't many seeds – scoop out and dice this flesh if it looks tasty and not too seedy).
Place squash in baking dish, cut side down. Add water to cover the bottom of the dish; cover with plastic and microwave 8 minutes. (You can skip this step; it just shortens the cooking time in the oven later).
In large skillet, add a splash of olive and heat until hot but not smoking. Add pancetta or bacon and cook 5 minutes. Add onion, garlic, diced squash and tomatoes; season with a generous pinch of salt and pepper (a pinch is usually 1/8 of tsp, for the measurers among you. Start with that and taste it at the end; you can always add more but you can't take it away.) Saute the mixture for 7-9 minutes over medium-low heat, until the onions are translucent and squash has softened. Add basil; check seasoning and add salt/pepper as needed.
Place squash bottoms in baking dish; drizzle w/olive oil (get a little on the dish under the squash too). Season squash with salt and pepper. Spoon topping into the squash bottoms. Sprinkle with a little Parmesan, breadcrumbs and a drizzle of olive oil (or a pat of butter).
Roast squash uncovered for 30 minutes. (If you haven't microwaved the squash, increase the baking time to 45-60 minutes. You may need to add a splash of water or broth to the bottom of the pan at around the 30-minute mark to prevent scorching/sticking.)
Enjoy!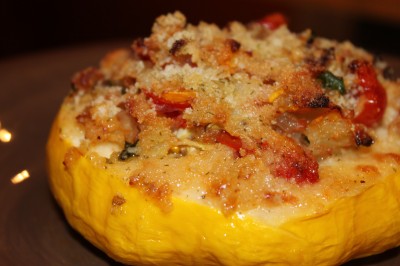 CSA catchup, and a recipe for Roasted Pattypan Squash with Pancetta